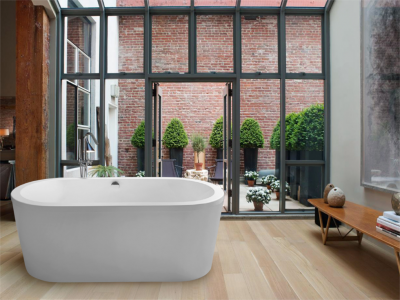 Do you realize that with a contemporary tub at your home and an hour to spare, you can enjoy the most relaxing experience that can beat a million spa trips?
You may already have a habit of enjoying a hot bath every now and then, and you know how soaking your body in warm water alone can have a magical effect on your mind and body. Not only does it improve the blood circulation, it also causes the release of endorphins, the natural feel-good hormones. However, what we are sharing with you today is the secret to make your experience even more therapeutic by adding bits of yoga and relaxation techniques to it.
Believe it or not, your bathroom essentially is the best place to practice yoga because it provides you complete privacy. A well designed bathroom with luxury installations such as freestanding tubs can actually add to the benefits, but let's leave that topic for some other day.
Right now, we are going to help you discover how you can experience deep relaxation in your bathtub.
If you really want to reap the benefits of Yoga to the fullest, you should know that bathtubs can prove to be a great companion, facilitating various postures of basic as well as advanced yoga. They can be used as props to actually support you during yoga. Take a look at the shape of the tub. The curve provides a great support for the spine as you bend forward.
Secondly, warm water helps your muscles and tissues relax and expand, more so than any amount of stretching could have done. The buoyancy helps performing the poses be easier on the joints too. So, when in a contemporary tub full of warm water, you will be able to perform yoga with more flexibility and safety.
Deep Relaxation in Bathtub Tips
There are many yoga poses you can perform in a bathtub. If we had to choose our five most favorite ones, we would go for the seated forward bends, seated pigeon, seated twist, cow face arms, and the twisted root. With the size of the tub big enough, you'd be able to perform all of those sitting yoga poses with considerable ease and convenience.
When relaxing in a bathtub, you can also choose to do nothing, think nothing, and just breathe deeply. Breathing exercises are among the most relaxing of therapies, helping relieve stress and anxiety. You will be surprised by how rejuvenated you will feel. For additional relaxation, use an exfoliating brush or glove in massage movements before getting out of the tub.
Benefits of yoga combined with high end bathtubs can actually be the best kind of hydrotherapy you can experience within the comfortable boundaries of your personal home. You will feel wonderful and look as fresh as someone who has spent the whole day at a spa.
For the best experience, try one of the freestanding soaker tubs by Aquatica.