At first glance this may seem a rather obvious question. Don't you just choose the bath you like that fits the space?

In reality, there are many factors to consider when choosing the size of bath for your new or renovated bathroom. They include the type of bath – freestanding or standalone, drop-in or built-in and corner bathtubs. There are logistical questions such as the size of your bathroom and the size and height of those using the bath. Other considerations include the number of people using the bath. Is it for a family bathroom or an ensuite? Is it for a couple who like to share the bath? Do you want a deep soaker tub or one that is lower in height so is easier to step in and out of?

Less obvious aspects that also come into play include the configuration of your bathroom and how you can make best use of the space available. Once you start exploring the options you will find there's a lot more to this than you first thought of.

Fortunately, Aquatica has a solution for all of them.
Type of Bathtub
There are, in essence, two main types of baths – freestanding and built-in baths, those enclosed in a cabinetry which generally sit flush with the wall or drop-in to the floor.
Freestanding Tubs
At Aquatica, freestanding or standalone bathtubs come in a wide range of dimensions to accommodate every desire and decor need. These options range from tubs such as our Emmanuelle solid surface bath which is a generous 71.75" in length - that's nearly 6 ft long, and 31" high, to compact models that fit in much smaller spaces like our Lullaby Nano which is just 51.25". Note that a more compact length of bath does not mean your bathing is compromised. The Lullaby Nano is a small deep soaking tub designed to still deliver a generous soaking depth of 16.25", whilst our lovely compact Sophia standalone tub dimensions is just 56" long but offers a luxurious 20" water depth.

Another superb solution if you require more compact, freestanding tub dimensions is our wonderful True Ofuro standalone soaking tub. This one-of-a-kind bath is based on the traditional Japanese style of soaker tub. It comes in a compact floorplate of just 51.5" long but with a relaxing soaking depth of over 2 ft. It has an even more compact little sister, the Ture Uforo Mini which is ideal for smaller bathrooms at just 43.25" long.
Built-in Tub Dimensions
Generally, a freestanding bath will take up more floor space as it is usually set with space all around, although freestanding tubs sit just as happily next to a wall. Have a look at our Coletta, Purescape and Arabella baths and you will see they look stunning in situ.

A narrower, longer space may be the ideal location for a built-in bathtub such as our Pure Back to Wall bathtub models which sit flush to the wall on one side and come with decorative wooden side panels in dark or light wood. These great options come in two bathtub sizes – 67 inches long or an oversized 82.75" length, but with practical widths of just 31.5" to fit nicely in most bathrooms configurations.
Corner Tub Dimensions
Corners can often appear to be a bit of a waste of space. One very good way to use them to best effect is to select one of our corner baths. Corner soaker tub dimensions provide generous internal bathing within more compact floor areas by using the full diagonal lengths of the triangular space they fill.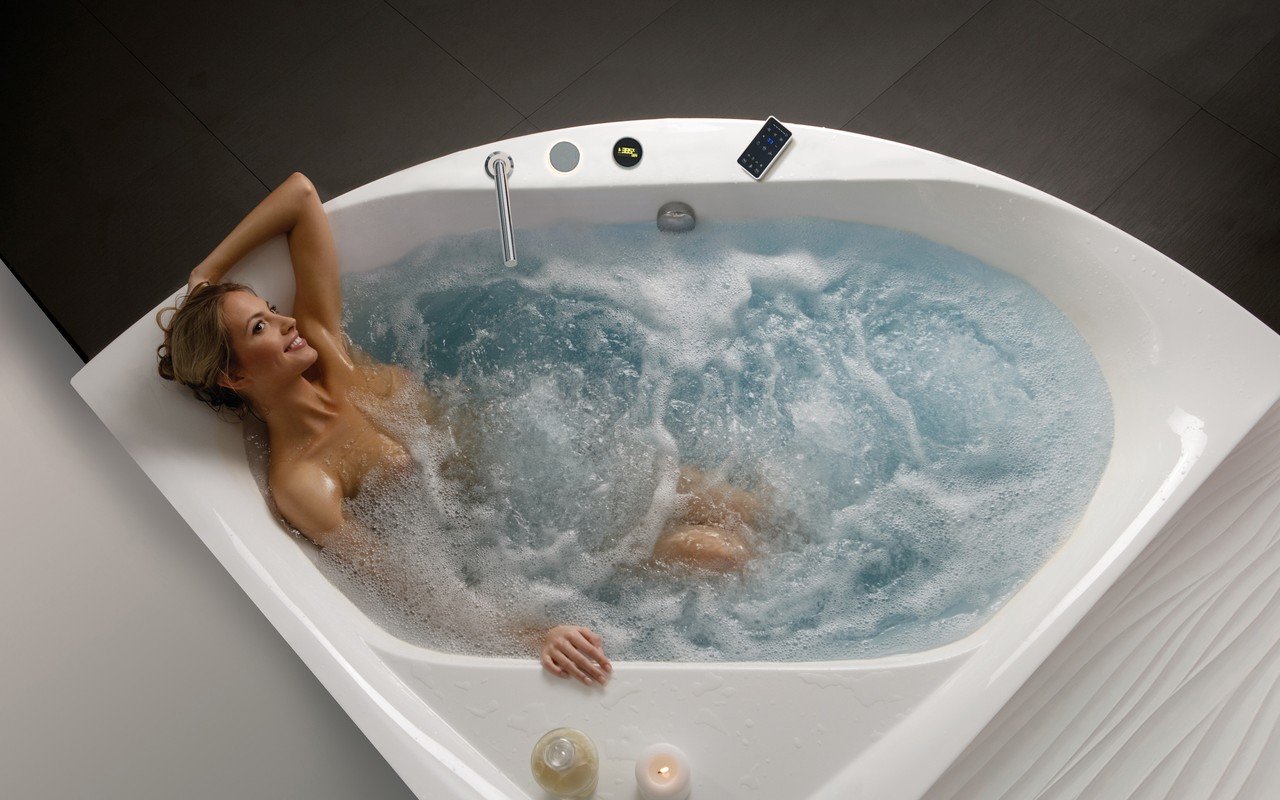 A very good example of this is our lovely Olivia 2 person soaker corner tub. This premium design bathtub takes only 55" of corner space yet can accommodate two bathers very comfortably. It is also available in a slightly larger 58.5" version. The other great benefit of a corner tub is it offers great shelf space by the tub for all those bathing essentials.

Of course, we also have larger corner baths such as our lavish Suri oversized model which takes up 66.5" of corner space and includes a generous circular bath that is over 5ft in diameter at its top edge.
Triangular Baths Sizes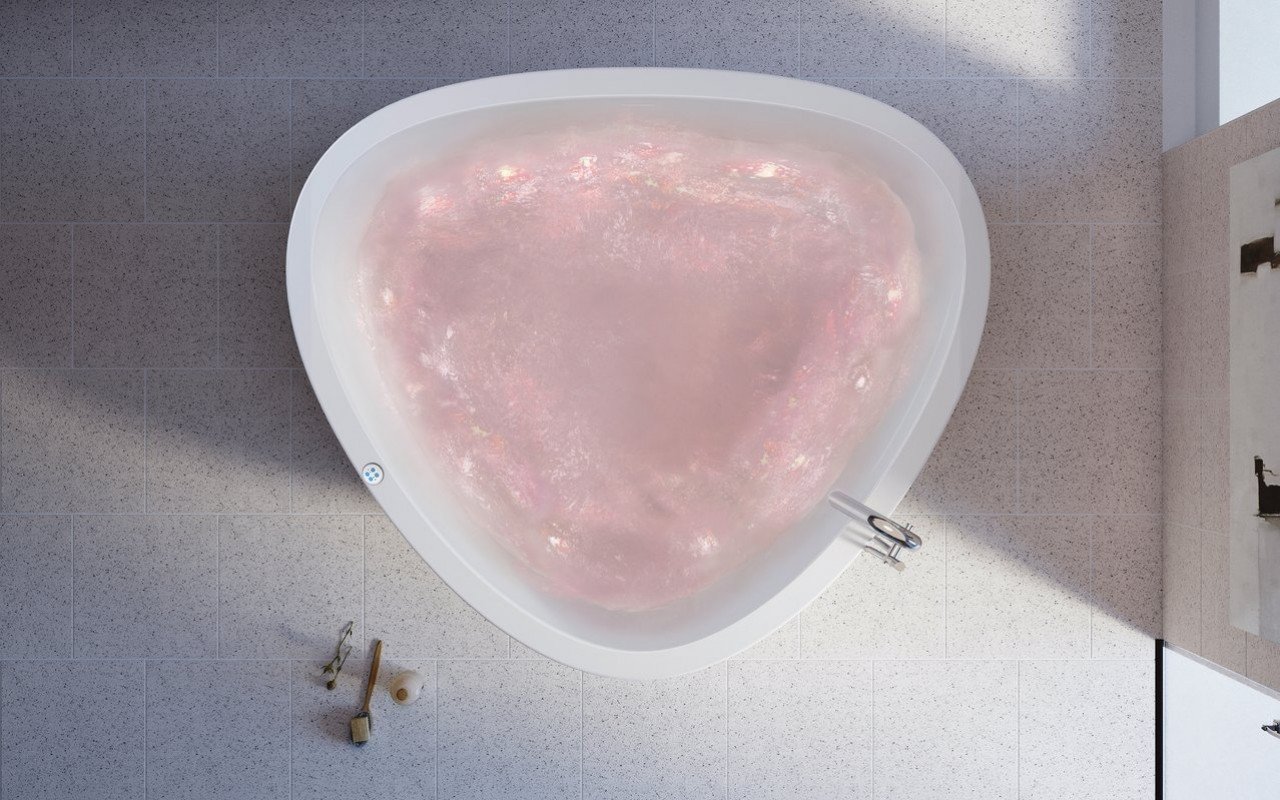 The Aquatica range also includes a number of beautiful, solid stone composite triangular baths such as our stunning Trinity model. This beautiful bath would look stunning in any bathroom and with tub dimensions of 67.5" long and 59" wide is a mid-sized option that could be accommodated in many bathrooms.
Bath Usage
Who and how you use your bath will be a major factor in the final size of bath you choose.
If you love to luxuriate in your bath at the end of a long day, relaxing and rejuvenating tired muscles, you would desire a more generous sized bath with perhaps the addition of air jet massage. Bathtubs such as our wonderfully relaxing, Scandanavian-inspired Sensuality model which comes in two lengths of around 5ft 5 inches and 5ft 8 inches, is perfect for self-indulgent pampering or for two to share in total comfort.

Maybe you need a smaller tub for a second or guest bathroom. As mentioned above, we have a number of lovely tubs with smaller dimensions such as our Lullaby, Sophia, our oval and rectangular Purescape models. Another lovely option is our classic Piccolo, a freestanding modern interpretation of the classic clawfoot bathtub in cast stone marble composite with solid ash wood legs.

Piccolo's deep interior is engineered to create maximum comfort and relaxation, all within in a footprint that at 59" will fit well in bathrooms of all sizes.
Practical Features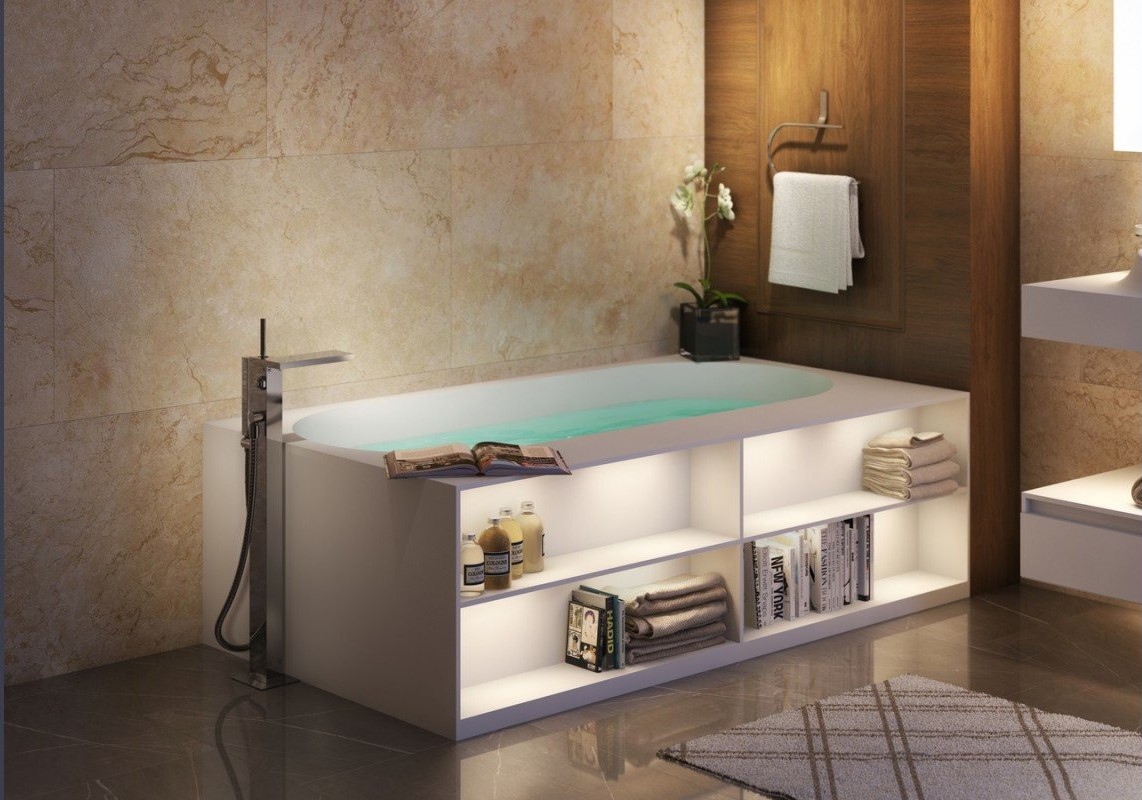 One option which may be of interest for bathers with less flexibility who require ease of access is our unique and very practical Baby-boomer walk-in bathtub with a safe and transparent curved acrylic door on its corner. This is a wonderful solution that works best in a corner installation and fits easily into most bathrooms with dimensions of 51.25" by 29.5". The door opens inwards to save bathroom space.

Or for those who require lots of storage, there is our Storage Lovers tub. This truly unique Italian design concept cleverly incorporates a set of storage shelves in which to keep all your favorite bathing accouterments, even a good book or two for those how enjoy reading in the bath.
The Larger the Better
Those bathers who place great store on the reinvigorating effects of bathing will no doubt have incorporated a large bathroom in their home, in order to truly enjoy their bathtime. Because we specialize in baths, we know all about the joys of bathing and as such have over 40 models of large and 2 person deep soaker tubs with dimensions over 70".

For the most part freestanding, or drop-in models like our Lacus air massage bathtub, these big-hearted tubs evoke luxury and comfort at first glance. Check out the range of luxurious freestanding circular baths with built-in air massage systems which would become real statement pieces in any bathroom at around 75" in diameter , for example Allegra or Infinity.

We have elegant black freestanding tubs such as our graphite Karolina deep soaker tub which is nearly 6ft in length, which by the way also come sin pristine matt white Aquatex solid stone composite.

And we have our large deep soaking superb Fusion tub models – the Fusion cube, our oval Fusion Ovatus or rectangular Fusion Lineare indoor jetted spas baths, which come in sizes from 79" in length to a giant 90" with room for one, two or a whole family of bathers with ease.
Bathroom Configuration
The last thing to consider is clearly the size and layout of your bathroom. But even here there is usually considerable flexibility depending on whether you want a very functional bathroom or more of a private sanctuary. Is your bath to be the centerpiece of the room or just a necessary item on the list of your total bathroom requirements without being its core?

As you can see, ultimately your choice of bathtub dimensions comes down to many things, not just the obvious. The purpose of this article is to get you thinking about all aspects of bathing – how you use the bath, who will be using it, where and how it will fit within the configurations of the bathroom and so on.

Once you have created your own wish list, visit our website and check out the many options. Don't forget to use the filter such as product length to help you find your perfect solution.