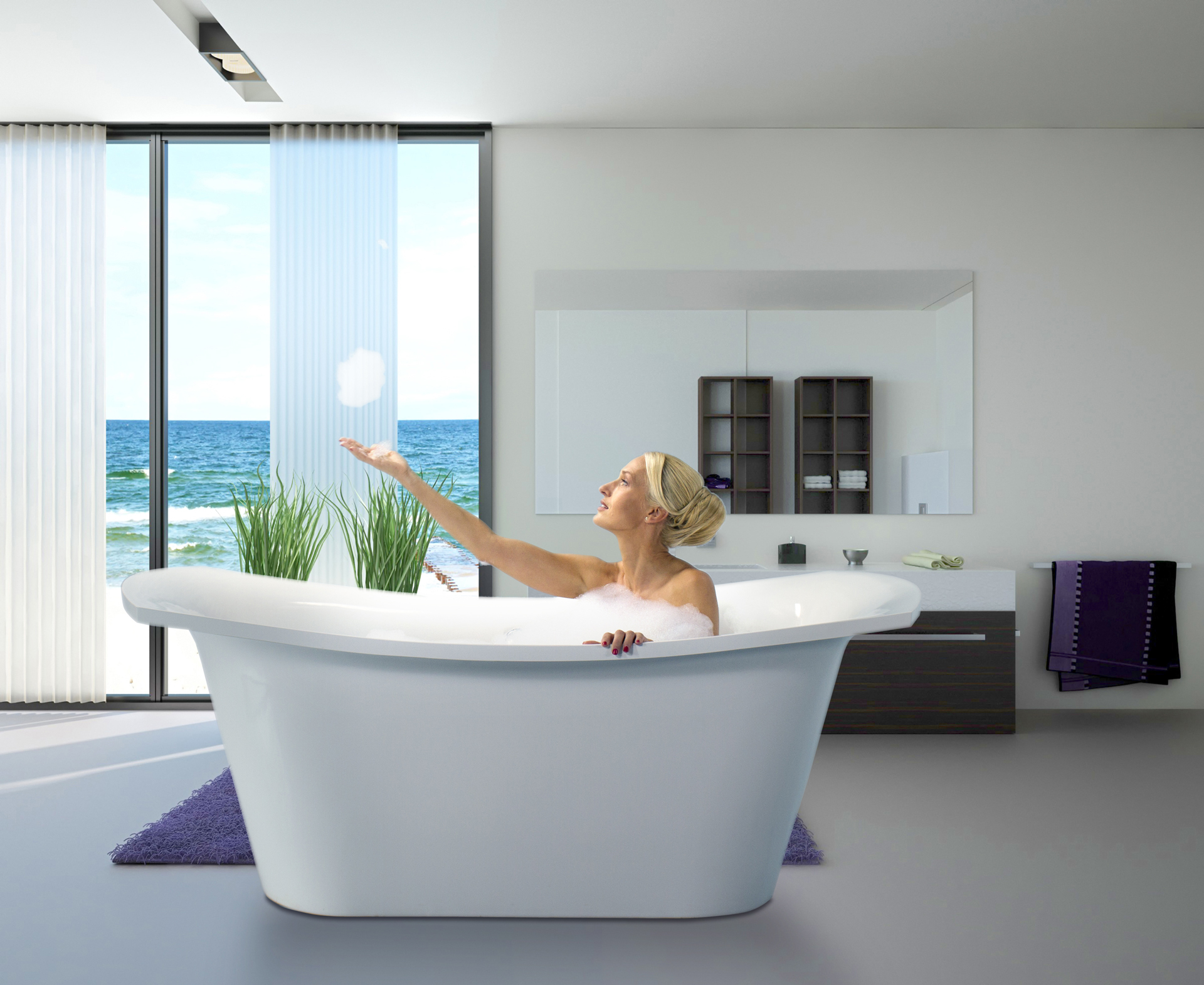 Bathroom design trends come and go, though sometimes a few of the more appealing ones make their way back around. Freestanding deep luxury bathtubs are one such example. Where large, jetted bathtubs were a must-have for the master bathroom, deep soaking bathtubs are now back in demand. Soaking tubs are not only relaxing, but they're also simplistic and visually appealing. Freestanding acrylic tubs are easy to maintain, and serve as a comfortable bath for two.
So how do we know that homeowners all over America are clamoring for soaking tubs to install in their master bathrooms? Research from the 2004 Kitchen and Bath Industry Show (NKBIS) shows that Americans like today's bathrooms to be spa-like, easy to maintain, and accessible.
The National Kitchen and Bath Association (NKBA), founders of the NKBIS, found that almost two-thirds of designers on the show survey showcased freestanding soaking tubs in master bathroom displays. Freestanding, non-jetted tubs have taken over as the preferred interior bathroom must-have item.
Spa-Like Relaxation
People are trading traditional bathroom amenities for more contemporary spa-like amenities. The deep luxury bathtub falls in line with the bathroom trend towards bathrooms that serve as home spas. Freestanding acrylic tubs are low maintenance yet attractive in appearance. It's no wonder that they're making such a strong appearance in today's bathroom remodels.
The Cost of Modern Luxury?
Deep luxury bathtubs have traditionally been seen as a luxury item, since the materials were expensive and crafting the tub was time consuming. Today, however, you can find a good quality freestanding acrylic tub for as little as $1,000. It will provide plenty of luxurious baths and serve as an attractive centerpiece to your bathroom for years to come.
Other Reasons to Get a freestanding Tub
Deep luxury bathtubs also give additional advantages, such as:
Having the choice to get a stand-alone shower. Installing both a stand-alone shower and a freestanding tub is a nice departure from the shower/tub combination that you see in many standard bathrooms. This puts you at a nice advantage when you're enjoying a relaxing bath and someone else wants to use the shower.
Freestanding tubs are a work of art in themselves. They're beautifully crafted and provide an architectural element to a bathroom. A freestanding bathtub serves as a beautiful center piece and focal point with its sleek lines. You could even say that to install a freestanding bathtub is to add a functional sculpture to your comode.
Freestanding tubs free up floor space. The deck surrounding a drop-in tub can take up valuable floor space. A freestanding tub allows you to put more of your floor on display.
They give you free artistic reign over your bathroom. Have you ever wanted to unleash your inner interior designer? Freestanding tubs have much more variety than your run-of-the-mill white fiberglass bathtub. You can choose from any combination of materials, colors, and finishes that will best compliment your bathroom.
Greater space efficiency. A stand-alone tub doesn't take up room like a traditional drop-in jacuzzi-style tub would. It has a contemporary look that is also sleek and minimalist, making it a great option for those with limited bathroom space. It's also great for giving a bigger bathroom a more open look, since freestanding tubs look great when displayed prominently.
Freestanding tubs are great for couples. Whether you want to stretch out on your own or share a romantic bath with your partner, freestanding tubs are great for solo baths and as a comfortable bath for two. They provide an excellent way to unwind with your partner and catch up on the day's events.Freestanding soaking bathtubs are beautiful, easy to maintain, and roomy enough to serve as a comfortable bath for two. Take advantage of this latest home bathroom trend, and you won't be disappointed.