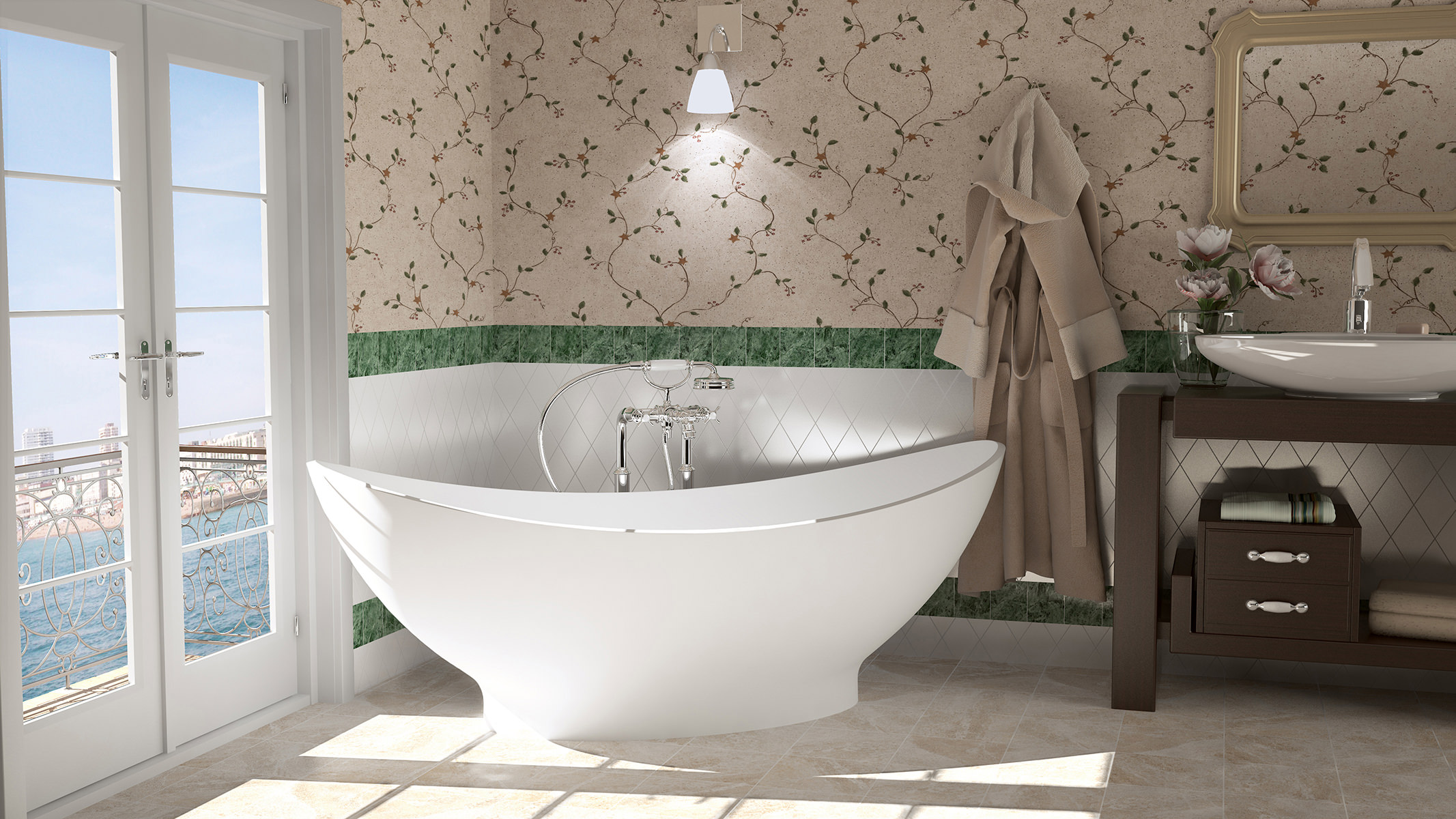 Do you want to add glamour and charming elegance to your bathroom space? Freestanding bathtubs are a good option for you to add style and exclusivity to a room where you can pamper yourself and enjoy a pleasing surrounding. If you love the idea of soaking yourself in a hot tub of water and letting all of the day's stress vanish from your body, then get a deep freestanding tub and make your luxurious dream come true!
Why Bathtubs?
How many times have you seen pictures of luxurious bathroom spaces in magazines and TV commercials, which have made you yearn for just such a bathroom in your humble abode? Well, why not make your dream come true? You don't have to go all out and give your home a complete remodeling job. Act smart and make the right choice to transform a simple and regular looking bathroom space into a pièce de résistance!
Have you ever wondered what it is that makes a great bathroom stand out? It is probably that all the fixtures have been fixed in the best spaces that compliment them. You can also make use of this technique to transform your home into a place which will make you wonder what you had been doing wrong all this time! A freestanding bathtub can do all that and so much more for your bathroom space.
Beautiful Sculpture In The Bathroom- Add A High End Bath Tub To The Space!
If you are a creative person and want artistic beauty to fill your home, how can you infuse the spirit into your bathroom space? You can surely hang beautiful paintings and artwork and place statues in every corner, but in a bathroom you need to be very smart. How to add an artistic touch in a limited space, where you have to fit in all important bathroom fixtures? Just choose the right fixture and your problem is solved. A high end bathtub will look like a beautiful sculpture in a small yet charming bathroom space.
There are a number of different styles, designs and material options available in the market in the bath tub category, and you can choose the one which adds a glamorous look to your bathroom and gives it a wow factor! Free standing bath tubs are ideal sculptural design features.
Why Freestanding Bathtubs?
Deep free standing bathtubs give the space a vintage and royal look, adding a class to every space.
A free standing piece is reminiscent of the old times when such a bathing fixture was a symbol of elegant style and royalty. With time, these tubs have stood their ground and are still the first love of many home owners looking for new fixtures for the bathroom.
Whether you choose a simple yet classy bath tub to place at the centre of your bathroom space or plan to place the artistic piece in a special corner just perfect for the room, a free standing bath tub is what you need! Easy to place anywhere you want, these beautiful pieces are a dream come true for many, and lend the room a deceptively simple yet decidedly chic look!
Place a special stand beside it to hold all your bath essentials or opt for stylish bathtub shower curtains, and give the fixture an extra style.
One important thing to remember is to choose a bathtub in a durable material and style to compliment your needs. While the traditional shape of the bathtub is ever popular, some unique shapes and sizes of these fixtures can bring unique character to your bathroom space.
You can design your bathing space anyway you like, to make it similar to the dream space you want by choosing the perfect free standing bathtub! For more information on the options you have, visit Aquaticabath.